All this included in the price
Professional
Survey

Delivery
Included

Expert
Installation
Wide Board Sectional Garage Doors
The Wide Board Sectional door is a contemporary design with four wide sections offering aesthetic consistency. Our Steel Sectional garage doors are supplied with a fully retractable gear, which opens and closes vertically and runs on tracks horizontally back into the garage roof space, this autom...
Description
The Wide Board Sectional door is a contemporary design with four wide sections offering aesthetic consistency. Our Steel Sectional garage doors are supplied with a fully retractable gear, which opens and closes vertically and runs on tracks horizontally back into the garage roof space, this automated gear allows for cars to be parked right up to the front and the garage can still be opened.
There are two standard installation options, either concealed behind the reveal (preferred design) and can be installed whether the garage opening is square, angled or arched or fitted between the reveal with a fascia frame set to cover the lintel included in the cost and with optional frame trims (required for between reveal installations only), both will have Fascias matching the door surface finish and colour.  Our surveyor will help you in selecting the right installation for your situation.
Security is a very important part of our home and contents, which is why for increased security our Sectional Garage doors remote transmitter and door operator has Security+ 2.0: patented wireless technology and automatic locking of the slide mechanism.
Specification
Double skinned 42mm insulated panels
Remote control as standard (two hand transmitters supplied as standard)
Automatic opening is supplied as standard and will require the customer to provide a standard 13 amp socket within 1 metre of where the electric motor will be located. The power cable with the motor is 1.5 metres long.
Colour matched frame covers and fascia panels are available
Weather seals fitted to all four sides of the door and between the panels
An external emergency release lock is available (this is compulsory if the garage door in the only entrance into the garage)
Finger trap protection – the unique form of the door sections eliminates trap points
The bottom of the side frame leg is fitted with a non-brittle, plastic shoe offering long-term protection
Unique 'back drive' feature reacts against attempts to force door upwards
Automatically stops and reverses should the door encounter an obstruction
Smooth DC Motor features 'soft start-'soft stop' for improved safety and quieter closing, with a built-in courtesy light, which automatically switches on when the remote control is operated
Door automatically locks on closing
Single and double door bespoke sizes available
Glazing options for all Sectional door designs in top row only - highly scratch resistant translucent privacy glazing in a double glazed 16mm polycarbonate unit for privacy and improved insulation
Painted door surface protected against rust and rainwater runs off without leaving streaky marks due to the hot galvanised material and a high quality polyester primer coating on both sides
8 x painted finishes to choose from
Sectional doors are CE and Building Regulations compliant, confirming to BSEN 13241-1-2003 and CE standards.

Three door finishes – Smooth, Woodgrain Smooth and Metallic (restrictions to some door colours)

Smooth Finish- silky smooth ideal for modern designs and with a 50% thicker exterior sheet also ensures higher stability and smoother running
Woodgrain Smooth Finish- Woodgrain effect UV resistant foiled coating on the exterior of the steel panels giving the aesthetics of timber
Metallic – UV resistant foiled coating for a modern metallic appearance

Anglian detailed survey, delivery and installation by an approved Anglian installer included in the price
Anglian remove and recycle your old garage door
Accessories
Low Headroom
Alternative track application for double doors only
Emergency Release Lock
This item is compulsory if the garage door is the only entrance to the garage. An external emergency release lock is available, operated by a key.
Additional Transmitter
Two hand transmitters are supplied as standard, buy additional if required, can be added to your car key-ring.
Guarantee
5 years on exterior finish
5 years on electrical and mechanical components
5 years on motor
Maintenance
Anglian garage doors are a low maintenance product, however certain simple checks carried out will ensure extended trouble free operation.
Wash the door with warm soapy water using a soft cloth every 3 months
Check and clean out the guide rails and any moving parts annually, removing any accumulated leaves and debris
Ensure the door closes onto a clean level surface
Oil regularly (at least four times a year, depending on location and site) using a light oil or maintenance spray. All moving parts should be oiled especially all pivot points, running tracks (DO NOT grease them), tension springs and hinges.
Please do NOT oil cylinders, if they are sticking, only lubricate with graphite dust, a specialist dry lubricant.
View the Anglian Care & Maintenance Guide PDF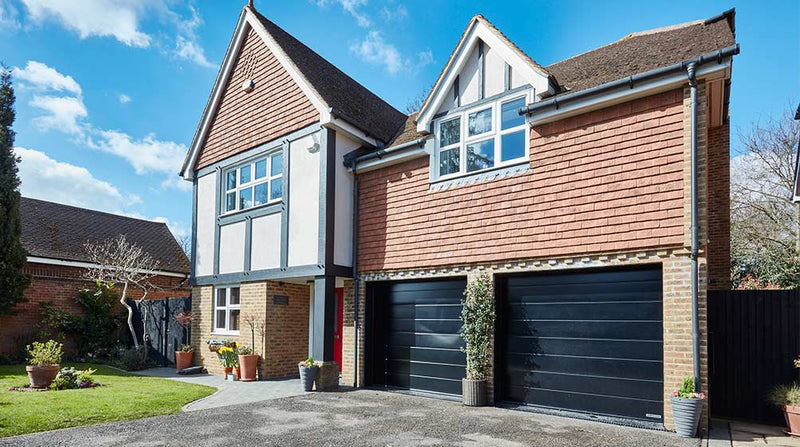 Why Choose Anglian?
2–5 Year Guarantee

We offer robust and solid guarantees on all our products and have been standing by our guarantees for over 55 years. Our guarantees underline our commitment to offering you the highest quality home improvements.

Made to Industry Standards

All our garage doors are made here in the UK using only the highest quality tested products. We take standards and approvals very seriously and manufacture all our products to the relevant industry standards.

Fully surveyed & installed

A professional survey is included in the price, measurements and colour choice will be confirmed and they will be able to answer any questions you may have regarding your order. Installation is included and provided by an approved Anglian Installer to ensure perfect fit and full product demonstration.

Made in Britain

Designed to help consumers quickly and easily recognise British made products, Anglian are proud to carry this accreditation.
Find your perfect garage door today! Price your garage door now
Steps to your new Garage Door
1

Place your order

Order your garage door with ease through the Anglian Online Shop, here you can browse all the options available and purchase your garage door from the comfort of your own home.

2

Survey conducted

Anglian will arrange a convenient date and time for one of our professional surveyors to validate your measurements within 21 days of your order being placed online. They will confirm your chosen colour with a physical colour swatch and answer any questions you may have regarding your order.

3

Manufacturing

All our doors are made right here in Britain using only the highest quality tested products.

4

Installation

Once your garage door is ready, you will be contacted to arrange an installation date with one of our fully experienced local installation teams, this will normally take place within 6-8 weeks of your order being placed and typically installed in just one day.
Our Accreditations
TrustMark is a government endorsed not-for-profit organisation to help consumers find a reputable firm and help to stamp out rogue traders. Endorsed by Trading Standards and Which.

Certifies products are made from start to finish in a British factory by British craftspeople.

All our garage doors carry a CE mark and have been independently tested for safe operation and compliance with legislation EN 13241-1.
Garage Door Testimonials
"We chose the roller door as we liked the automatic opening and the old one was heavy to lift and this one doesn't need painting. Anglian's service and installation was very satisfactory and we have noticed the garage stays warmer and is less noisy."

"We have used Anglian before and were happy to use them again for our garage doors. We wanted a more modern look and wider entrance so chose Steel Sectional doors. The fitting was excellent and the service team were brilliant, and we have a warmer and quieter garage."

"A neighbour had used Anglian and gave us good feedback from their doors. We had a very efficient installation and they left the site immaculate. The best things I have noticed since the installation are the enhanced security and quiet and efficient operating mechanism."

"We would gladly recommend Anglian, as I was very impressed with the sales man. The garage is much warmer and quieter."

"The Anglian surveyor was helpful and re-confirmed the size of garage door I needed.  An efficient and polite team replaced my garage door and explained everything to me clearly, including how to work the door.  It has really improved the front of my house and we love the convenience of remote-control opening.  I wouldn't hesitate in recommending Anglian."

"We were happy to use Anglian for our garage doors as we had used them before and always had great service. The garage doors have more security, are draught proof, easy to operate and they look good. I would be very happy to recommend Anglian to friends and family."
Garage Door FAQs
How do I measure for my garage door?
Are Anglian garage doors insulated?
Yes both the Anglian Roller and Sectional garage doors are insulated for extra thermal efficiency. Both doors are double-skinned and filled with foam to provide sound and heat insulation.
What if I input an incorrect size for my garage door?
Our price includes a visit from a professional surveyor who will take all detailed measurements for your door before it is manufactured. If any  chargeable changes are required at point of survey, the balance will be due on completion of installation.
Can you install a garage door into my pre-fabricated concrete garage?
Unfortunately no, we are unable to install Anglian garage doors into this style of garage.
Will a survey take place?
Yes, Anglian will arrange a convenient appointment to send round a professional surveyor to take detailed measurements within 21 days of your order and advise you on installation methods, show you your chosen colour with a physical colour swatch and answer any questions you may have.
How long before installation?
Our estimated lead time for Garage Door installations are between 6-12 weeks from ordering.
I have a query with my order – who do I contact?