Professional Survey
Included in the price

Safe Delivery
Included in the price

Expert Installation
Included in the price
Included in the price
Survey

Delivery

Installation
Fully surveyed and installed
5 year guarantee
Made to measure
Made in Britain
Description
Our Steel Sectional garage doors are supplied with a fully retractable gear, which opens and closes vertically and runs on tracks horizontally back into the garage roof space, this automated gear allows for cars to be parked right up to the front and the garage can still be opened.
The Georgian design is a more traditional and timeless option, with every individual panel exactly spaced to give a uniform appearance.
There are two standard installation options, either concealed behind the reveal (preferred design) and can be installed whether the garage opening is square, angled or arched or fitted between the reveal with a fascia frame set to cover the lintel and sides, both will have Fascias matching the door surface finish and colour, excluding the ribbed finish will have smooth finish Fascias.  Our surveyor will help you in selecting the right installation for your situation.
Sectional doors are CE marked as fully compliant with all European Safety Directives and have been independently tested for safe operation and compliance with legislation EN 13241-1-2003.
Security is a very important part of our home and contents, which is why for increased security our Sectional Garage doors remote transmitter and door operator use 128bit two way validations, this encryption protocol means that no one can copy the radio signal in the transmitters.
Specification
Double skinned 42mm insulated panels
Remote control as standard (two hand transmitters supplied as standard)
Automatic opening is supplied as standard and will require the customer to provide a standard 13 amp socket within 1 metre of where the electric motor will be located. The power cable with the motor is 1.5 metres long.
In car plug in remote available for extra ease of opening the door from the car
Colour matched frame covers and fascia panels
Weather seals fitted to all four sides of the door and between the panels
An external emergency release lock is available (this is compulsory if the garage door in the only entrance into the garage)
Finger trap protection – the unique form of the door sections eliminates trap points
The bottom of the side frame leg is fitted with a non-brittle, plastic shoe offering long-term protection
Unique 'back drive' feature reacts against attempts to force door upwards
Automatically stops and reverses should the door encounter an obstruction
Smooth DC Motor features 'soft start-'soft stop' for improved safety and quieter closing, with a built-in courtesy light, which automatically switches on when the remote control is operated
Door automatically locks on closing
Single and double door bespoke sizes available
Glazing options for all Sectional door designs in top row only - highly scratch resistant translucent privacy glazing in a double glazed 16mm polycarbonate unit for privacy and improved insulation, including a Cottage Bar crucifix design available for Georgian doors only
Painted door surface protected against rust and rainwater runs off without leaving streaky marks due to the hot galvanised material and a high quality polyester primer coating on both sides
9 x painted finishes to choose from 2 x Woodgrain effect smooth finishes to choose from
Sectional doors are CE and Building Regulations compliant, confirming to BSEN 13241-1-2003 and CE standards.
Two door finishes – Woodgrain Smooth and Woodgrain Embossed

Woodgrain Smooth Finish- Woodgrain effect UV resistant foiled coating on the exterior of the steel panels giving the aesthetics of timber
Woodgrain Embossed Finish- Robust surface with an authentic sawn timber look

Anglian detailed survey, delivery and installation by an approved Anglian installer included in the price
Anglian remove and recycle your old garage door
Guarantee
5 years on exterior finish
5 years on electrical and mechanical components
5 years on motor
Maintenance
Anglian garage doors are a low maintenance product, however certain simple checks carried out will ensure extended trouble free operation.
Wash the door with warm soapy water using a soft cloth every 3 months
Check and clean out the guide rails and any moving parts annually, removing any accumulated leaves and debris
Ensure the door closes onto a clean level surface
Oil regularly (at least four times a year, depending on location and site) using a light oil or maintenance spray. All moving parts should be oiled especially all pivot points, running tracks (DO NOT grease them), tension springs and hinges.
View the Anglian Care & Maintenance Guide PDF
---
---
Made in Britain

All Anglian garage doors are Made in Britain and we are proud to carry the official mark demonstrating that our products are good quality, great value and British-made.

Fully surveyed & installed

Buy your garage door with confidence through Anglian's Shop. All our garage doors are provided with a full survey prior to manufacture and complete installation

Quality guaranteed

Your garage door comes with a 5-year guarantee.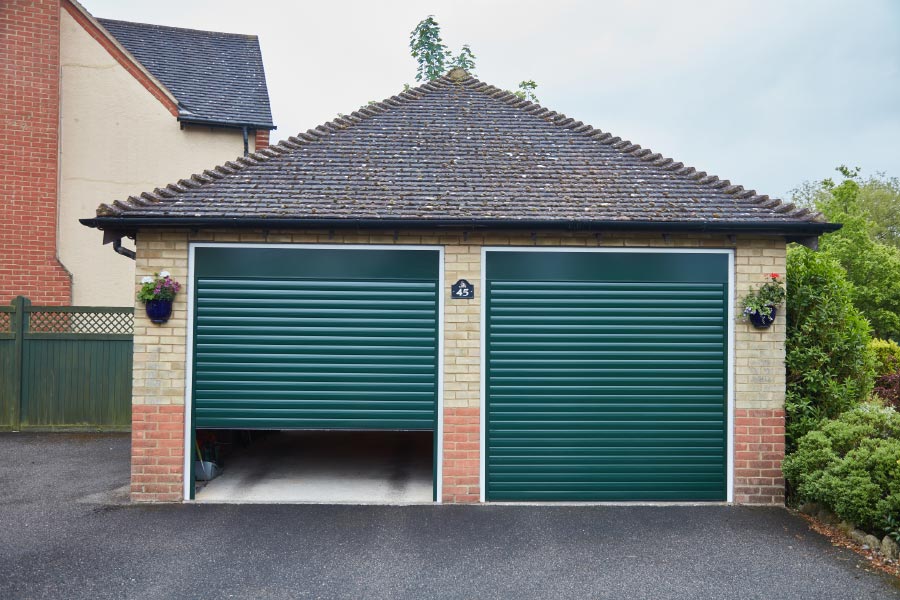 "The sales rep showed me samples of all the colours he had, as we said we wanted the nearest to olive green, which we are very pleased with. We have noticed improved energy bills, temperature, sound reduction with our new garage door."
---
How do I measure for my garage door?
Are Anglian garage doors insulated?
Yes both the Anglian Roller and Sectional garage doors are insulated for extra thermal efficiency. Both doors are double-skinned and filled with foam to provide sound and heat insulation.
What if I input an incorrect size for my garage door?
Our price includes a visit from a professional surveyor who will take all detailed measurements for your door before it is manufactured. If any  chargeable changes are required at point of survey, the balance will be due on completion of installation.
Can you install a garage door into my pre-fabricated concrete garage?
Unfortunately no, we are unable to install Anglian garage doors into this style of garage.
Will a survey take place?
Yes, Anglian will arrange a convenient appointment to send round a professional surveyor to take detailed  measurements within 21 days of your order and advise you on installation methods, show you your chosen colour with a physical colour swatch and answer any questions you may have.
How long before installation?
Our estimated lead time for Garage Door installations are between 6-8 weeks from ordering.
I have a query with my order – who do I contact?